Today was funn..
Met gongs or lunch at Sizzler this afternoon. The last time we went Sizzler in ToaPayoh was almost 3 years ago with Melissa. All I had was salad.. (due to my unusual diet for the past few days) and gongs had dory fishhhh.. I've been missing the salad bar in Sizzler but couldn't eat much of the food today =(( Will revisit when I can eat meat!
Went to NUH after lunch to visit grandmmaa.. Saw Liqing and her boyfriend outside the ward. Apparently her boyfriend's Aunty was sick and was in danger this afternoon.. pray pray she'll get well soon.. On the other hand, grandma is doing well and hopefully may be discharged in a few days time.
Afterwhich, met up with weiming and his classmate, melvin for dinner.. Nowhere serves vegetarian and I ended up eating podpeas from coldstorage. Shopping went on after dinner! Evil Weiming bought me a uber nice purse from The WalletShop! Thank you Mr Chen!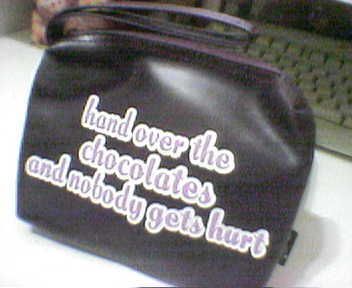 I'm a chocolate robber! hand over the chocolates and nobody gets hurt!
He tried to embarrass me by telling the sales assistant I wanted his number! How evil.. But on the account on lunch last week and the purse he's forgiven. haha...
Wad's on tml?
Shopping with Cassandra and Kimberly.. I've been squandering alot of my pay.. SO... Window shopping for me... =((